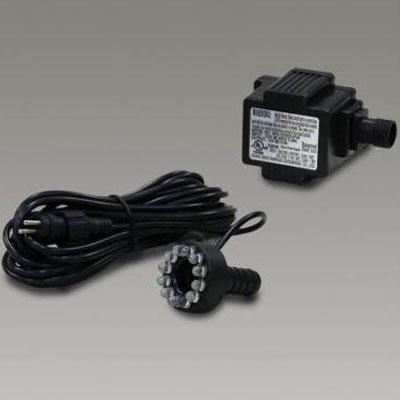 LIGHT, UNDERWATER FOR FOUNTAINET
Underwater Light
12 LED White 1.5 Watt
Weight: 1 lbs.

Fountain Care & Maintenance

Specific assembly instructions are included with the purchase of each Campania fountain. Please check that these instructions and all fountain parts are included before setting up the fountain.

The following general guidelines should be followed for every fountain set-up:
- The fountain should be set up on a flat, level surface to ensure proper water flow.
- A properly prepared base of gravel, flagstone, or other hardscaping material is preferred to maintain stability.
- Check that the pump works BEFORE assembly by placing it in a bucket of water and operating the pump.
- A fountain pump should only be connected to a properly grounded 110 volt (AC only) GFCI protected receptacle.

Proper care for all cast stone fountains should include the following important tips:
- Consistent filling is required to maintain a proper water level and ensure that the pump remains totally submerged. If the level of water is too low, the pump will be damaged. How often a fountain should be filled depends on water flow and specific weather conditions in which the fountain is running. Appropriate water level is also required for proper fountain performance.
- Keep pump inflow free of debris to insure proper water flow. Periodic cleaning of the pump will extend its life.
- If desired, the fountain may be cleaned with mild soap and a soft bristle brush. DO NOT use bleach as this may affect the patina.
- Algaecides available at pond supply or garden shops can be used to combat the buildup of algae.
- To maintain the finish, we recommend spraying with a clear acrylic spray rated for outdoor use once a year.

Always follow general winter care for fountains as outlined below to extend the life of your birdbath:
- While pumps do come with a one year manufacturer warranty, they must be removed and stored indoors.
- Fountains must be completely drained and dried before the first freeze.
- If your fountain has a copper fountain ring, disconnect the copper ring and store indoors.
- If you have a fountain lighting kit installed, remove the string LED lights and the transformer, and store indoors for the winter.
- Fountains must be covered with an appropriate cover, not a tarp or any other type of plastic.
- Covers should be checked weekly or after stormy weather or heavy snowfall because they can shift, exposing bowls to damaging moisture.

Statuary, fountains, and birdbaths do not come with a manufacturer's warranty.
SKU: MASS9917
Free in store pick up. Local Kansas City delivery options available.