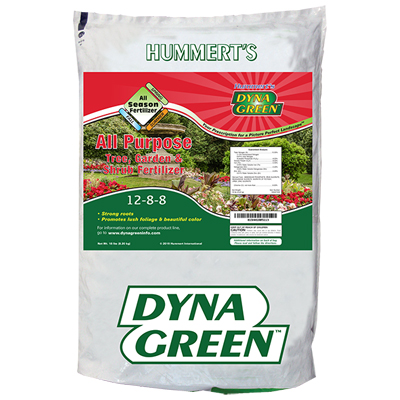 DYNA GREEN ALL PUR W/FERTIBLEND
Promoting strong roots, lush foliage, and beautiful color, this all-purpose 12-8-8 fertilizer can be used throughout your landscape and garden.

Flowers & Veggies: Spread fertilizer evenly on the bed surface and work into the top 2 to 4 inches of soil surface before planting.

Shrubs, Hedges & Ornamentals: Apply in the late spring and early fall. Where rapid growth is desired, or in areas where the growing season is extended, a third application is recommended in mid-summer.

Fruit & Nut Trees: Apply fertilizer 3 times a year - once in the spring before new growth appears, early summer, and again in the fall after fruit and nuts have been harvested.

Shade Trees: Fertilize your trees 2 to 4 weeks before they break bud in spring. A second application is desired 6 to 8 weeks once the trees have reached peak spring growth. Fertilize again in 6 to 8 weeks.
SKU: HUM07245200
Free in store pick up. Local Kansas City delivery options available.